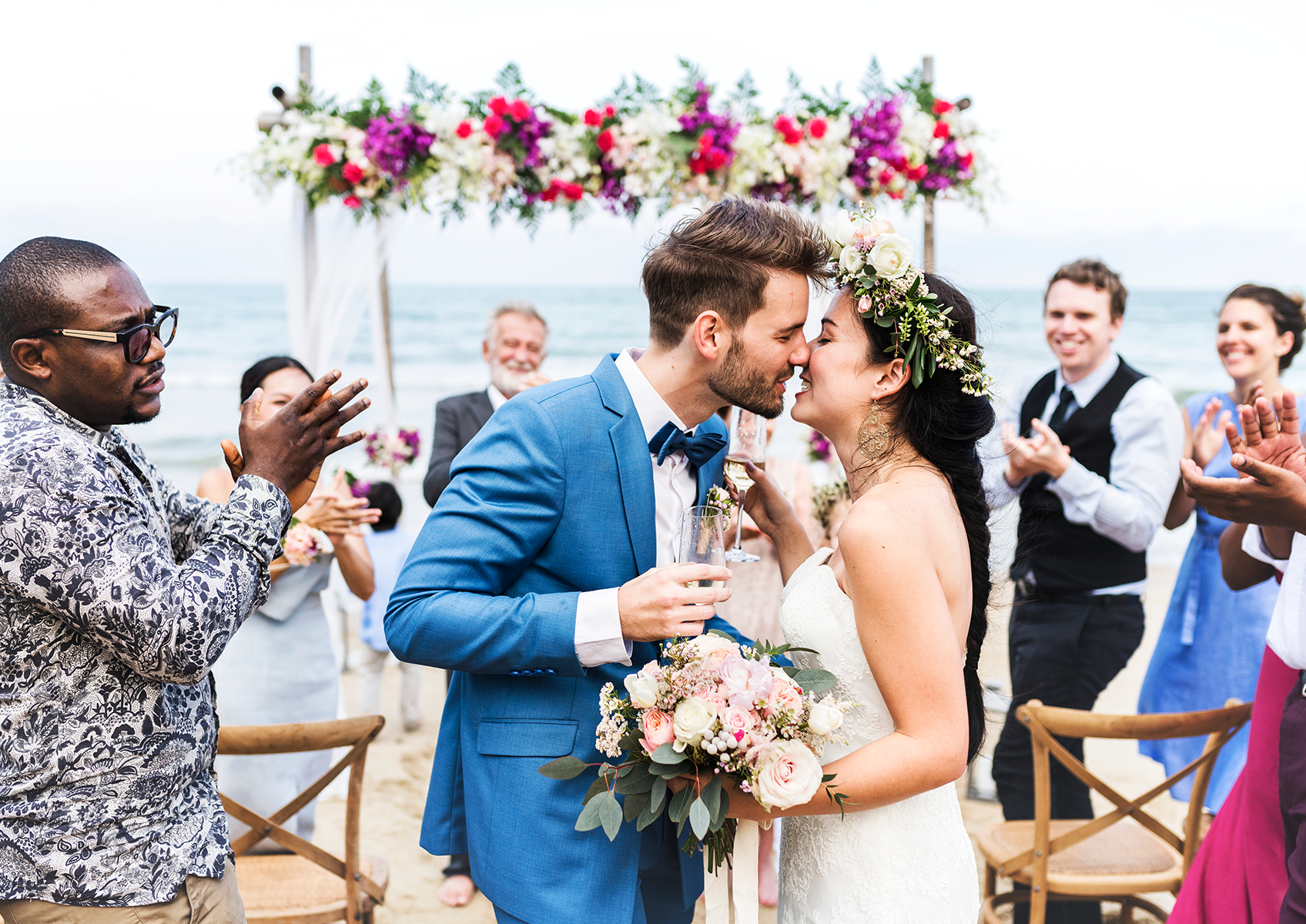 When it comes to talking about client experience, most conversations are centered around what it is you should be doing leading up to your couples' wedding days. And, rightly so. It's when you're making a huge effort to get to know them. It's when you spend the most time with them. And, it's certainly when they are forming their opinions about you that might turn up in a future review. But, as important as the time you are actively working with clients to plan their weddings is, how you close out that relationship can be the difference between simply receiving a review and gaining future referral business. So, we asked a florist, photographer, planner, and caterer what they do to make sure they're winning over referring clients. Read on to learn how each of them off-boards their clients in hopes that it builds future business!
How to Off-Board Clients Effectively
Staying on their radar is key
Turning a client into a referring client starts in the planning process because checking in, sending thank you's, popping in with "thinking of you" emails creates the best foundation. After the event, your approach might depend on your personality—I'm a super introvert and live like a quiet little crab in my own shell, so I have to make an effort to continue the relationship and keep in touch. But, I have learned that a simple "congratulations!" email after the event goes a long way in terms of staying on someone's radar! The other thing I do is send 1-year anniversary emails (it's easy to schedule those a year ahead of time in Gmail) and sometimes I get a response of "oh my goodness, we're pregnant now and would love for you to be a part of the baby shower plans!" – Blooms Design House
Under promise and over deliver
A lot of my heavy lifting as a photographer begins after the wedding day! This is when I shift my focus to exceeding the client's expectations by under-promising and over delivering on the turnaround time for their images, the quantity of images delivered, and the final delivery methods. I aim to have all the wedding images edited within one month of their wedding date as opposed to the 6-8 weeks I originally promised them. I also typically deliver about 100 more images than they are expecting, and mail them a few extra surprises, including a handful of Instax photos taken throughout the wedding day and a hand-written note with their custom wedding album. Lastly, at the end of the year in December, I send each couple I worked with a small box of chocolates with a picture from their wedding printed on the outside as an end of the year thank you surprise. All of these added touches result in my clients feeling extra cared for, which leads to them sharing about how much they loved working with me either to their followers on social media or in a great review. – Kiyah C Photography
Always ask for client feedback
I think one of the things that a lot of wedding pros are afraid of is getting client feedback! What if you made a slight mistake in the process? What if they don't like you? What if they are not actually happy? Sometimes, it seems easier to just leave the elephant in the room undisturbed. But guess what? If you don't ask you will never get better. You will never get the chance to make it right for them and for their massive referral network either. My advice is to always ask, always send a final gift, and always send a client feedback form. The information you collect will be invaluable and it will help you remove your ego from your craft and focus solely on what you can do to be better. – Julian Leaver Events
Prioritize what's most important to them
Let's be real y'all! We are in the relationship business and we do what we do because we love to make people's dream events come to fruition! To do this, we really get to know our clients during the planning process. We learn about their look, what kind of food they love, their budget, their location, the music they love, how they want to honor their heritage and cultural traditions—in short, top their lists of "must-haves." By the time we "bond" over grandma's traditional Peruvian Alfajores recipe that is a "must" for the cake table, we have built a relationship that transcends the weekend we've meticulously planned together. Truly listening and responding to what we call people's W.M.I's (What's Most Important) is an exercise in mining for one's values. And, if we succeed in delivering on the top 5 things that were most important to the clients, we have people who are happy to book us for future personal parties as well as refer us to friends or and professional colleagues. A pro who masters building rapport through this process has a loyal customer and is trusted for years to come. – Lisa Dupar Catering
Want more ideas to help you create the best client experience you can? Click through to learn how a great client experience can help you increase customer satisfaction and how to keep your client experience exciting during an extended planning period!
Photo Credit: Rawpixel/Shutterstock