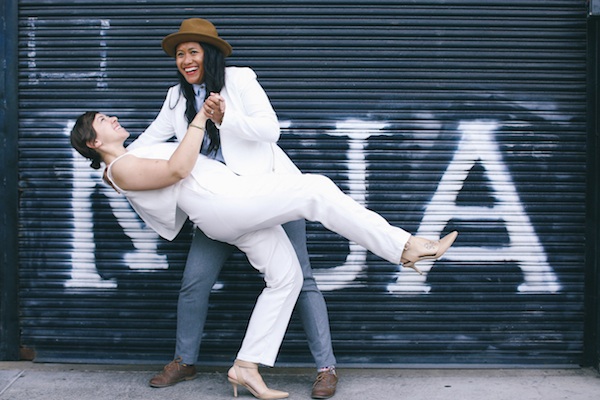 This article was written by WeddingPro Educator, Kathryn Hamm.
Ten years ago, few same-sex couples were considering public ceremonies, and even fewer had access to legal partnership recognition. When couples did forge ahead into uncharted territory, most of their energy was spent finding gay-friendly vendors and worrying about whether or not family would show up. Engagement photography sessions were not yet a gleam in the collective LGBTQ eye, let alone the reality that they now are in the blogosphere.
Preparation Is Key
As same-sex weddings have become more widely accepted, more couples have begun following the traditional marriage prescriptions: engagement on a bent knee (or Jumbotron), engagement parties, bachelor and bachelorette parties, wedding showers, weddings, and big receptions. You know, the works. These changes require that photographers take a deeper look at their skillsets, and the services they offer same-sex couples.
Couples, too, should become more knowledgeable about the kinds of skills, style sense, and creative talents available to them when hiring an engagement and wedding photographer.
A Dry Run
If used well, an engagement session can provide fruitful inspiration for wedding day planning. The initial meetings and conversations offer a chance to get better acquainted with the couple, establish a connection, and build rapport, so that you and your clients can become a team working toward a shared set of goals and clear expectations.
In-person meetings with both partners offer the best opportunity to get acquainted and consider any observable differences that will impact the session, such as height, body type, or other physical differences. Equally important is the chance to learn more about how each individual expresses themselves most comfortably (especially with regard to gender expression), how each partner relates to their beloved, and how their "coming out" experiences have impacted them and their family relationships.
The engagement session also offers a low-risk time to take chances, unlike the wedding day, which generally has a tight time-schedule and compulsory shot list. It's a good time to try out new concepts, poses, or lighting scenarios, and figure out what works (and what doesn't) with your clients.
Five open-ended questions to ask LGBTQ couples as you plan their big day:
Was there a proposal? If so, who proposed to whom?
What are you going to wear?
Will there be a wedding party? What are they going to wear? What are you calling your attendants?
Will you be getting ready together or separately?
Tell me about your ceremony. What are you most excited about? Is there anything that concerns you?
This post is an excerpt from The New Art of Capturing Love: The Essential Guide to Lesbian & Gay Wedding Photography (by Kathryn Hamm & Thea Dodds; Amphoto Books, 2014), where you can find even more photography tips and examples for those who wish to work with LGBTQ couples.

This post was written by WeddingPro Educator Kathryn Hamm, Publisher of GayWeddings.com, the leading online resource dedicated to serving same-sex couples since 1999. Kathryn is also co-author of the groundbreaking book, The New Art of Capturing Love: The Essential Guide to Lesbian and Gay Wedding Photography. Follow her on Twitter @madebykathryn.
Photo by Kat Ma Photography