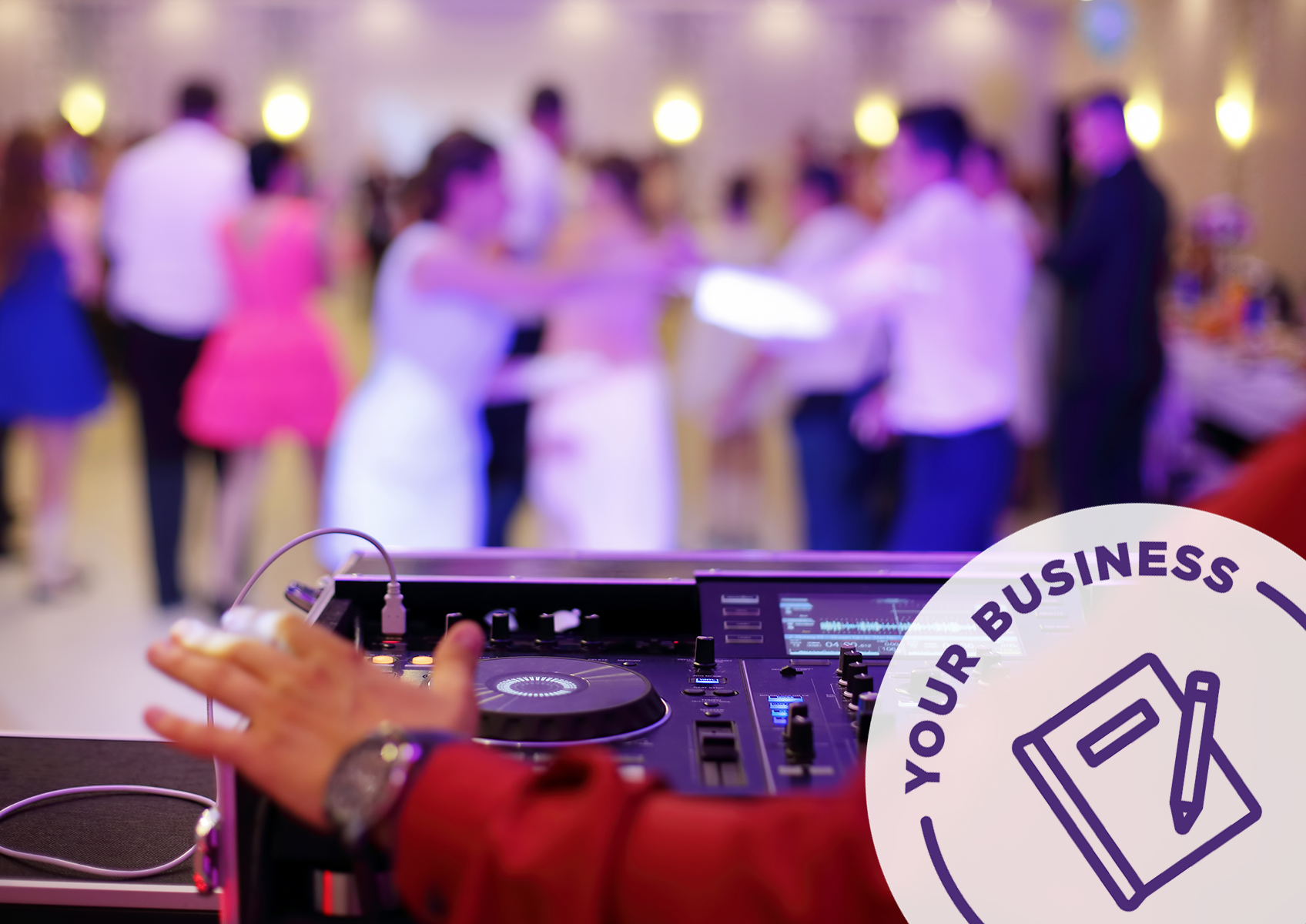 When it comes to navigating your business through COVID-19, we understand that you need answers that are specific to DJs like you. Get some perspective on your biggest questions from four of our WeddingPro Educators:
DJ Brian B, Owner, DJ Brian B Official

Jason Jani, Owner, SCE Event Group

Kristin Wilson, Owner, Our DJ Rocks

Troy Adams, Owner, Carolina DJ Professionals
Keep reading for advice on how to handle rescheduling a wedding date, how to continue marketing to future couples, how to communicate with clients in general, and more. Here's the recap from our recent DJ Insights webinar.
DJ Question #1: How are you handling postponements and rescheduling?
WeddingPro Answer #1: One thing is clear — there's no one-size-fits-all approach to postponements. Applying the same policy to all clients wouldn't be fair or considerate to their individual needs. Our WeddingPro Educators have the following solution-oriented suggestions for rescheduling:
Share information preemptively to get ahead. This approach may help to diminish the sheer volume of conversations you need to have. – Troy

Get your clients on the phone so you can empathize with them and the situation. It can be difficult to convey empathy via email.  Subsequently, document your discussion(s) through email. – Brian

Employ as much care and sensitivity as you can while trying to resolve issues for your couples; some people have the ability to postpone and some don't. – Jason

Keep in touch with your local governments. Stay up to date and make decisions based on facts, not fear. – Kristin
DJ Question #2: How are you handling fees and pricing related to rescheduling?
WeddingPro Answer #2: Troy Adams from Carolina DJ Professionals is not charging any fees for postponements or rescheduling. However, clients who cancel will lose their nonrefundable deposit. For SCE Event Group, Jason and his team are working to accommodate their talent internally as well as their couples. If a host within their organization is not available for a new event date, they're making adjustments to satisfy their existing contracts whenever possible. In that case, the goal is to have the original host transfer the contact to the new host. Sometimes they do have to readjust contracts, but their first priority is to maintain the integrity of the original contract while communicating the changes to clients and documenting via email.
In general, everyone's goal is to make the process as easy as possible for couples. "When we make decisions, we need to make sure we'll still be in business when postponements come around," Kristin cautions. 
DJ Question #3: How are you addressing requests for full cancellations?
WeddingPro Answer #3: Cancellations mean a difficult conversation must happen. Maybe sleep on it for 24 hours to allow time to calm down if you're feeling upset. As a business owner, you need to show strength if/when you explain that the deposit is nonrefundable. "Be vulnerable; explain the reasons for a deposit (e.g., overhead, start-up costs)," Troy recommends. The discussion may be uncomfortable, but reaching out to everyone involved is a step in the right direction. 
DJ Brian B contacts the other event partners to ensure everyone is on the same page. Being flexible is as important as being like-minded in your response as a team of wedding pros. As Brian points out, "Larger businesses, such as venues, may have more flexibility when it comes to refunds than small businesses." The latter group should consider all options and respond accordingly.
For all clients, including those who may decide to cancel, there's an opportunity to go above and beyond. Kristin suggests that DJs can create a Spotify playlist or set up a Zoom party. As a group, DJs seek to create memories through music, and there are ways to do so even now. For example, one of Our DJ Rocks' clients is on the front lines and will be on call for the next year, so Kristin offered to fly out and throw her a party. 
DJ Question #4: Should DJs be marketing right now?
WeddingPro Answer #4: YES! But you must be extremely strategic in your messaging. It's crucial to be sensitive to what people are going through at this time. "Marketing in May 2020 should not be the same as it was in November 2019," Jason advises. Once you adjust your message, ask your peers to review it to ensure it will be received in a positive way before you proceed. There may be a pause as you reconsider your approach, but don't neglect your inquiries and consultations. 
Our DJ Rocks has shifted to 100% relationship marketing. Kristin says, "It's no longer about 'check out this luxury uplighting.' It's about getting to know us and our ability to create deeper relationships with our clients. It's about what we're saying and how we're saying it. It's all about our vibe and the energy we're bringing." As Carolina DJ Professionals focuses on relationship marketing, their messaging has been educational. Troy wants to keep people engaged. With that in mind, his company offered a "make your life dance" series for clients. They've also highlighted their colleagues on their e-Lunch and Learn series. If the majority of your business is referral-based, as it is for DJ Brian B, consider prioritizing your relationships with other wedding pros instead of the traditional marketing to potential clients. 
DJ Question #5: How are you keeping up with cash flow? 
WeddingPro Answer #5: First things first, review all cash flow internally. That's what Jason did. He looked at subscriptions and other expenses that could be deemed excessive and/or unnecessary. Since controlling internal costs is crucial to managing cash flow, SCE Event Group prioritized cutting the fat before any type of opportunity building. "In every business, there's areas to watch and areas that shouldn't be touched," Jason states.
Like countless event professionals, DJ Brian B's pre-COVID-19 contract did not specify how to handle payments for postponements. When this crisis began, his sales were not coming in at all for the first two weeks. To preserve cash flow, Brian had to make the following shift: 50% of the balance is due on the original event date, and the final payment is due on the new event date. He recommends framing it in a way that shows you're trying to help the client(s) and find a good compromise. 
In terms of offerings, Troy has put two new initiatives in place. First, Carolina DJ Professionals gave a $100 discount for full payment, which worked very well and allowed Troy to keep more of his team employed. Secondly, Troy is advancing contractors' pay for any lead that they book to help keep them afloat through this crisis. 
DJ Question #6: How are you working on your business during this time?
WeddingPro Answer #6: Like many wedding pros who would normally be starting peak season in/around May, DJ Brian B is now working on his website instead. Troy and Jason have confirmed the other priority that we've heard pretty consistently from wedding pros: they're streamlining internal processes. Jason is focused on efficiencies in their operation so SCE Event Group will be stronger on the other side of this pandemic. He also is spending a considerable amount of time updating his music library. As a performance DJ, he wants to remove everything that's "dead weight." 
Some of our pros are choosing to learn new skills, as Kristin is doing with mixing. Her company, Our DJ Rocks, is diving into a new "love, lead, excel" campaign, recording how-tos on DJ Event Planner, and updating their social media (including Pinterest!), Spotify, etc. Since couples continue to plan and Google, Kristin and her team are preparing a bulleted list of client resources. 
All of our pros are looking ahead to the future of weddings and events. Kristin recommends asking important questions: What's next? How do we move forward and learn from this experience? When I'm on the other side of this crisis, how do I make sure that I'm more solid than I am now?
If you weren't able to join us live for the webinar, or if you want to brush up on the content again, you can view the recording at any time.
Photo Credit: wideonet/Shutterstock.com