Everyone has an origin story and a why that fuels their business. Sometimes it is a creative passion. Sometimes it's family. Sometimes it's running away from a corporate job. Sometimes it's about something bigger. That something bigger can be very personal and, for Lily Roden, it is empowering women and children in the country she grew up in. And, in the five years since she started her floral company, she has made sure that her why is not only a core part of her story but a core part of her business. We are excited to introduce you to this mission-driven woman and hope you find her purpose as inspiring as we do! 
Tell us a little bit about your company.
Lily Roden Floral Studio is based in Southern California and specializes in organic fine art floral design. Lily Roden, is a Latin immigrant, trying to brighten up the world by working with blooms and sponsoring eight children through school in her native country, El Salvador.  We believe in gorgeous blooms for anyone's special day that leave a lasting impact thousands of miles away! 
Is there a particular moment or story about why you decided that being in the wedding industry was what you wanted to do?
I wish I had a light bulb moment for when I decided to jump into florals. All I know is that I was working an HR corporate job that was debilitating. At the end of the work week, I was left floating in anxiety and stress and turned to flowers for a pretty de-stressor. I would post pictures of my very questionable work on social media and people asked me to begin creating for them! I jumped at the opportunity, did small events, and then my first wedding. I am so grateful that it all snowballed from there. Five years later, I am a full time florist and never want to work behind a desk again! 
Looking back, what was the most important thing you did in your first year that ended up setting you up for success? And, what has been the thing that has helped you level up since?
The most important thing I did my first year was to freelance a lot. As an immigrant, my family really instilled the value of education in me (which I am thankful for—it got me a fancy degree from UC Berkeley) but arts and creativity kind of went out the window. Freelancing allowed me to throw myself into a creative environment, absorb, and learn. This definitely has helped me level up, as I was able to observe while I learned. Thankful for the lessons I learned and the friendships I made during that season.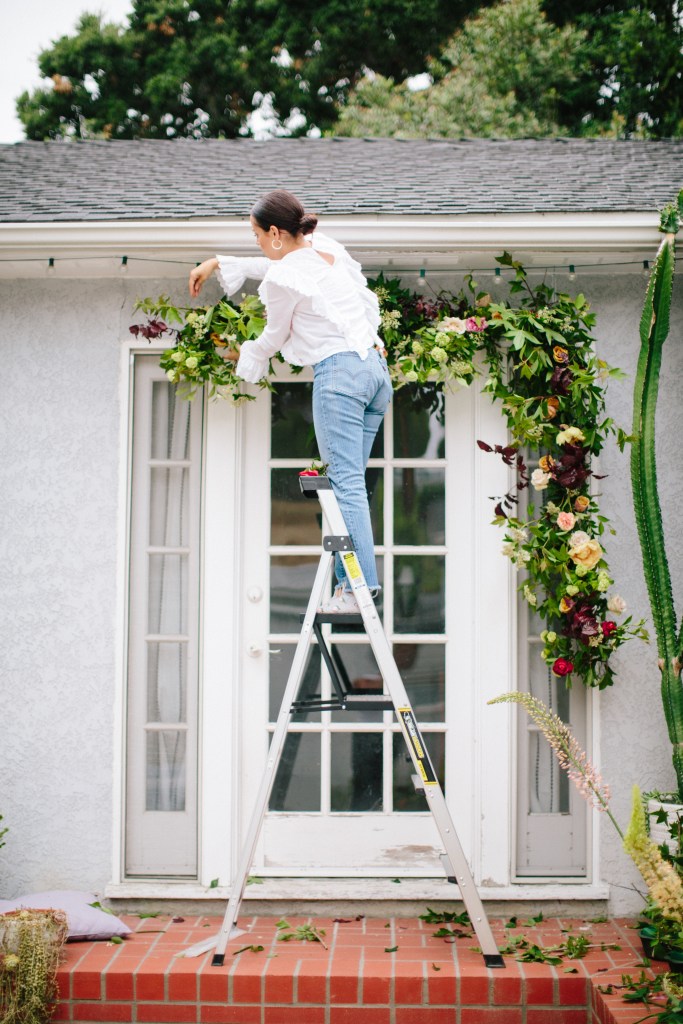 What do you know now that you wish you did when you started? You don't need a big fancy studio to be a successful florist. If you have the talent it takes, you will make some of your most gorgeous work out of your friend's backyard! Shake off the imposter syndrome sister, you don't need that big, fancy, white walled studio.
Once you've reached a goal, how do you decide what goals to set next?
I am a dreamer. I will never stop dreaming, reaching for my goals, and crossing things off the list. At the beginning of the year, I try to map out my annual goals. I try to stick to them but also make room for unforeseen surprises the year may bring. At the end of the year, I review my goals and set new ones for the new year. Everyone dreams differently, but this seems to work for me and helps me stay on track and organized.
Tell us about a pivotal moment you have had in the last year. What was the impact it had on your and your business?
When COVID hit I knew everyone was starting to "pivot." (I've never liked that word and knew I didn't want to pivot myself, as I don't want to be anything other than a florist.) So, I delved into bettering myself and my brand. I did a complete rebrand that included a new website and name change! I took online courses to improve my skills as well as freshened up my portfolio, welcome packet, and proposal. This was monumental in my business. It has opened doors to many opportunities and some pretty fantastic weddings (even during COVID) 
I stand for…beautiful wedding and event florals with a purpose in the lives of the eight children we sponsor in El Salvador.
My clients are… couples with elegant and refined taste who want to make a difference through their event florals.
If I could…empower women in developing countries to find their creative voice, I would. Maybe I will!
One time I… was cast on a flower competition show. I shot for two weeks and then COVID hit and I made the decision to not return because family comes first. Maybe one day I will make it back on TV!

How would you describe your favorite couples to work with and is there something you seem to connect with them over?
My favorite couples are the ones who trust me! The ones who are in love with details and obsess over the little things that make a wedding come together. When I work with couples like these I feel like we are speaking the same language. We usually remain friends afterward because we have such a deep understanding about each other and the mutual work it took to bring their day to life.
What is something from a typical day that might surprise people?
I really spend most of my days chasing my two year old. I am a mom and wife first and a florist second. I love taking my girl to the flower mart and playing with leftover blooms—she is loving it! I am proud of being a mother and whoever said stay-at-home moms can't keep a job was clearly mistaken (and probably a grumpy old man!). Moms, we are warrior rockstars! 
Tell us about a time you actually did a happy dance!
A few months ago, I had the honor of providing florals for Rob and Bryiana Dyrdek's vow renewal. I was obsessed with all of Dyrdek's shows in college and even met him years back. Booking their event and dreaming with them was definitely a happy dance and pinch me moment!
If you could do something to encourage diversity in our industry, what would you do
?
I would urge people to open up their bubbles to people who don't look or think like them. Reach out. Ask someone to coffee. Listen and learn. Change up your Instagram squares to reflect minority groups (POC, LGBTQ+, those with disabilities). When doing styled shoots make sure that not only your models reflect diversity but that it is also represented in your vendor team! Just embrace it—there is nothing more beautiful than inclusion, love, and acceptance. 
5 years from now, where do you hope to be?
Five years from now I will have an online marketplace of floral tools (aprons, work bags, ribbon, etc.) created by women in El Salvador. I will help empower women in developing countries to find their creative voice and provide for their families. 
Feeling inspired and empowered by Lily? Make sure you follow her along on Instagram at @lilyrodenfloralstudio. 
Photo Credit: Mirelle Carmichael Photo