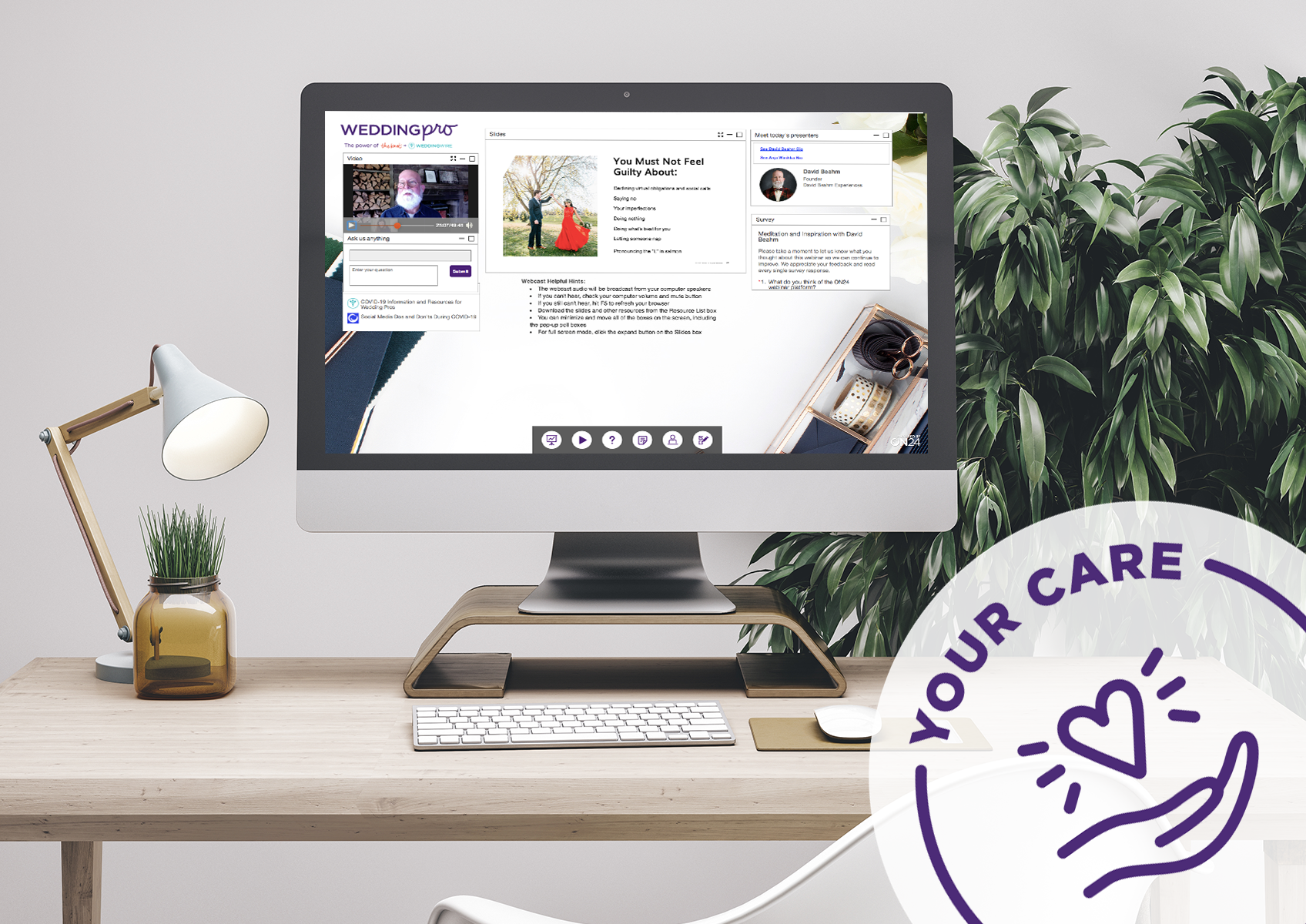 Last week, we had the pleasure to host NYC wedding designer, David Beahm on a webinar. We started with a few pressing questions, did a short meditation (or as David referred to it, a breathing exercise) and ended with a few words of inspiration and hope. The reception was incredibly positive and uplifting. Here, a recap of our webinar discussion with David.
WeddingPro: What sort of messaging and ongoing communication have you had with your clients?
David: From the very beginning, when it all started falling apart, our message was "we are here for you and we're not going anywhere." No one was prepared for this, but the good thing is that we all have the tools to move on from this and must use this time as an opportunity to improve. The biggest thing you can do for your clients right now is to ensure open communication. You must talk to all of your clients immediately. Check-in with them, ask how they are feeling, ask how you can help them. This is a strange time for everyone. You have to be upfront and realistic with them. If you have to move an event, start that conversation with them now because future dates are filling up quickly. At this point, we simply don't know what we don't know. No one has the answers right now, so the only thing we can do is be upfront and be flexible. We continuously remind our clients, we are ready to do whatever we can for them. We are flexible and we are ready to make their event happen the minute we are legally allowed to.
WeddingPro: How are you approaching social media during this time?
David: When everything started falling apart due to the virus, I grabbed Kadie from my office and asked her to quickly film a short video for Instagram. This was a quick, one-minute message to encourage everyone to stop and take a deep breath. I wanted to remind people that we are going to get through this, even if things look weary at the moment. After that video, I received a lot of feedback encouraging me to post more messages like this one. So, I just started talking and have kept it up. At the moment, I am posting videos every day talking about thoughts, feelings and reminding people to keep breathing! I think soon we will be able to start posting pretty pictures again.
WeddingPro: Thoughts on staying connected to the industry during this time?
David: Communication is essential during this time. You have to talk to everyone who does what you do.
You must reach out to your:
Comrades in Arms

because down the road collaboration is going to be really important. You're going to need to turn to professionals who do what you do when your workload overwhelms you. This is a time to understand, listen, and be there for everyone under your industry umbrella.

Financial Advisors.

I know most people are struggling financially right now. If you're having trouble, ask for help. Do not push things off or ignore them. This is a time to seek advice and learn as much as you can. There are a myriad of government agencies who can help you obtain loans and, even better, grants that are free money and should not be ignored.

Creditors, Banks, and Landlords

ask them if there's any way they can help or can work with you during this time.

Employees.

Check on their well-being and mental state. This is not an easy time for anyone, so communicate with them and let them know that they're not alone. Have virtual team meetings as often as possible. Let them know that you are there for them and that you are a family working through this crisis together. If you have to furlough or let employees go, explain that this is a reality so that there is a company left to come back to. Talk it through.

Creative Partners.

Leaning on them is going to be crucial after this pandemic. We are all going to be busy when this is over and we need everyone ready to work together.

Venues.

There's going to be a lot of bobbing and weaving and changes, so you must keep an open line of communication with your venues. We will all have to be a little more flexible and adaptable after this. Available dates are going to change à la minute.

Suppliers.

Although they aren't supplying right now and it's going to take a little while, you need to be up to date on their timelines so you can communicate them to your clients and team. Ask when you'll be able to get supplies from them, when they expect to reopen, what their financial terms are going to be if they have changed.

Freelance and Support Staff

. We need freelancers and support staff to make things happen. We can't survive without them. You have to talk to them, make sure they're doing okay. Ask if there's anything you can do to help them. Please let them know that they're valued. It's very difficult for everyone right now, especially freelancers who are self-employed in a market that has no business. Encourage them to seek unemployment funding – many governments have eased regulations concerning the self-employed.
WeddingPro: What are you tracking and working toward right now from a business perspective?
David: Right now, you just have to keep doing business. After the market crash in 2008, I thought I may have to go out of business. I had a former client, a great guy, who was 'on the board of the world' as his assistant said. I really didn't know if I should shut down or not, and I asked him to come in and take a look at the books. He looked over everything for 5 minutes and said 'Stop it. There's money here. Just keep the capital flowing, say yes to everything.' And I learned, you can't live where you were, you have to live where you're going and always keep looking ahead. It is crucial to keep the business moving, however you can. Put a check in the account for 10 dollars, make a phone call, make a new connection. Do anything you can. Keep pushing forward, no matter how big the challenges are.
WeddingPro: What are you working on from a personal perspective during this time?
David: I am not keeping house the way I normally do. I do think it's really important to live in an organized way and keep order in your life but for right now, I have given myself permission to take a break and restore during this time.
You cannot feel guilty about needing to:
Decline a virtual obligation or a social call

. While it's really important and really wonderful that everyone is checking in on each other and reaching out in the form of virtual meetings and cocktail parties, it can all get overwhelming and busier than your "normal" social life. There's nothing wrong with politely declining an invitation and postponing to a later date.

Say no.

There's nothing wrong with saying no. Sometimes you must say yes, but also, no can be the most powerful word in helping you navigate through a day.

Take care of yourself.

You have to look out for you. Remember, the car doesn't run without gas! If you're not looking out for yourself then you can't help others. Sometimes when work or social life isn't pulling our attention, we start to turn inward and reflect and it can go to a dark place quickly. Make sure this inner reflection is a positive force.

Don't focus on your imperfections

, and spiral down a hole of negativity. Focus on your good qualities and the small accomplishments you're doing every day. The fact that you're here right now is good enough.

Nap.

Right now, I am taking the time to rest. It may not seem like we're doing a lot right now but we are. There is so much going on in our heads that we must take time to process, repair and heal. This time is traumatic, whether we admit it or not. We are actually living through the stages of grief, of a loss. The world that we used to know is not the world we're going to. It will never be the same, and that's okay. But use this time to reconnect with yourself and prepare to move forward.

Pronounce the 'L' in salmon

. Do what makes you happy. Pronounce the 'L' in salmon if you want! If you want to do something, DO IT! Self-care really is important. Don't let pain and trauma become so familiar that you forget that happiness is an option. Right now, we are getting bombarded by the news, and most of it is negative. You have to occasionally back up and take a deep breath. Look around at all the good things surrounding you right now. That's what I'm trying to focus on in my personal life.
WeddingPro: Words of encouragement?
David:
"The illiterate of the 21st Century will not be those who cannot read and write – but those who cannot learn, unlearn and relearn." -Alvin Toffler
"Your mind believes everything you tell it. Work hard to keep your thoughts positive. Whatever your mind can conceive and believe, it will achieve."
If you weren't able to join us live, or if you want to brush up on the content again, you can view the recording at any time.
About the author: Anja Winikka is the former editor of TheKnot.com and The Knot Magazines turned educator and contributing editor @WeddingPro. She's on a mission to help creatives, community leaders, and wedding businesses own their stories and tell the world about it (follow along via Instagram @anjawinikka).