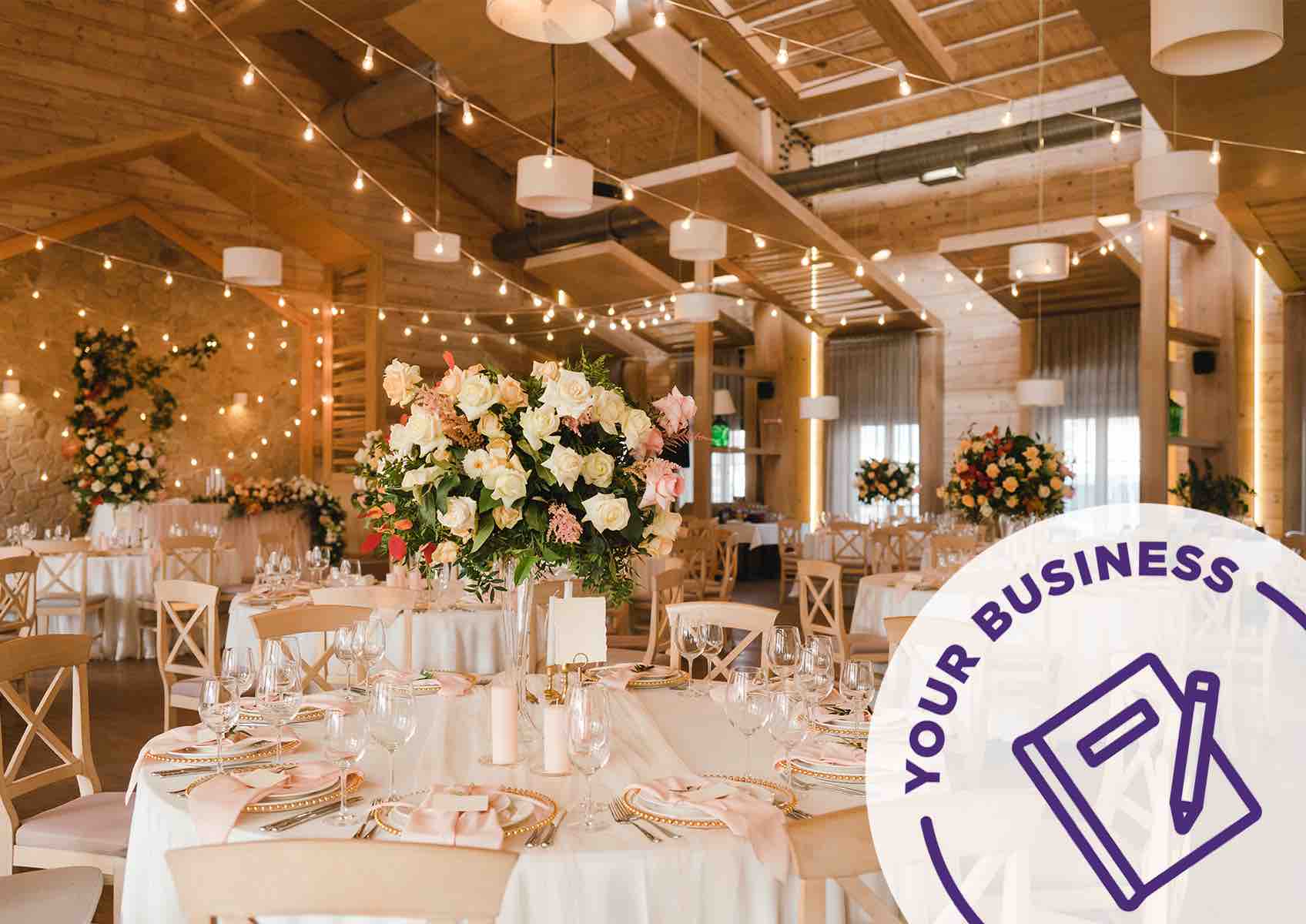 We discussed quite a few questions in our recent venue webinar and then reported back to you with a recap. But there were still more questions! So, in this Part 2 post, we're addressing 10 more questions about the following hot topics:
Refunds & Deposits

Safety

Rescheduling

Virtual Tours

Communication
We once again tapped three of our WeddingPro Educators and experts: Kinsey Roberts, owner of Vista View Events in Colorado and She Creates Business podcast, Alan Berg, CSP speaker and consultant, and Chris Jespersen, owner of The Madison venue in Cleveland, Ohio. 
Venue Question 1: How are you handling deposits (refund, forfeit, roll forward) on client-requested postponements for events booked on dates beyond the current group events ban (e.g., Fall/Winter 2020)?
WeddingPro Answer 1: I would be very careful about crowdsourcing other venues in order to decide what to do for your own. Every business is different. For one, we don't know what someone else's bank account looks like. We also don't know what their contracts say or what their internal processes are. Those are all major factors that should go into deciding how to move forward. So, for any of the above, I would suggest sitting down with a lawyer and reviewing your contract. Sit down with your finances and figure out what you can manage to do for your clients and for your team. Then from there, you can start to come up with a set of policies that work for you. 
That being said, please don't take this as the gospel — but here's what we are doing: We are a seasonal venue, open six months out of the year May through October. We've moved all of our May couples to the Fall 2020 or 2021. We chose to proactively reach out to all of our 2020 couples, and we offered them the same option. We allowed them to move their date to any date in 2020 free of charge. This mostly has impacted the couples getting married in May and June so far. Additionally, for any 2020 wedding clients that have been impacted by the pandemic in any way (e.g., financially), they are able to move their date to a Friday or Sunday in 2021 for free / no fees. However, if the couple wants to move to a Saturday in 2021, we will charge 50% of our normal rate. That charge is in addition to what they paid in 2020. When we looked at our finances, we decided that this solution is the best we can offer. – Kinsey Roberts
Venue Question 2: Do you foresee the implementation of any new safety procedures for events moving forward? 
WeddingPro Answer 2: Safety is, and will continue to be, at the forefront of everyone's minds. As a venue owner, I see hand washing stations, hand sanitizing stations and masks as the safety precautions that will be implemented for a while. I don't think buffets will be making a return anytime soon to any events. As states or regions work their way through the reopening stages, I anticipate venues will be allowed increased percentages of guests in their venue based off of their set fire code capacity. It might look like allowing 50% capacity, then 75% then full capacity down the line. You have to be prepared and be thinking ahead about what supplies you now need to have that you didn't before. We recently ordered masks made by different wedding vendors; so, when we reopen, we will always have a supply for any employee or guest. – Chris Jespersen
Venue Question 3: How are you handling couples that won't be able to have their wedding, (May/June) but are not ready to commit to a new date? With those events coming up, are you having them cancel and rebook?
WeddingPro Answer 3: No, I wouldn't recommend canceling and rebooking. That's an administrative nightmare. Give them a deadline. Some are paralyzed by the paradox of choice. With so many unknowns, we have to be a pillar of strength for them. Be straight-forward and gently explain to your couples what they need to decide and, most importantly, by when. Two weeks is a fair timeline for a decision. Give them an exact date (and time!) when you need to know. Everyone performs better with a deadline. – Kinsey Roberts
Venue Question 4: How do you handle rescheduling clients who booked Saturday dates if you have no Saturdays available? What happens if they're upset that they won't get a refund for the price difference for choosing a more affordable date?
WeddingPro Answer 4: Take that on a case-by-case basis. Responding to the current crisis means managing your reputation, your brand and your business, as well as knowing what's possible. Most of our couples have been understanding. We explain that we are not rescheduling their weddings by choice; COVID-19 is responsible for the postponement. As a result, they're paying for us to manage their weddings for an additional 5 months (or more). Still, if you have a client who is not understanding, consider the possibility that it might not be worth fighting. One potential solution is to refund them, have them sign an NDA, and be done with it. – Kinsey Roberts
Venue Question 5: Do you know of any programs, either free or for a price, that will allow a venue to create a good quality virtual tour?
WeddingPro Answer 5: If you have the option to have a virtual tour on WeddingWire, you definitely should do that. It's totally worth it and a great perk. If not, you can try to create your own tour with an iPhone. You would shoot the video yourself room by room, and then you would need to send those clips to a video editor for stitching together. – Kinsey Roberts
Venue Question 6: For couples who plan to keep their late summer/early fall dates but now anticipate lower attendance than originally estimated, are you holding them to their contracted guest count or food & beverage minimum? 
WeddingPro Answer 6: We are not holding our clients to their minimum at this time. We are excited to be working with clients who are being flexible and have great attitudes with the situation at hand. Our couples are working with us and their vendors to find a new date for everyone. We understand this time is very difficult for all sides, so loosening up the minimums and/or a guaranteed guest count is the way we are helping our couples. Finding ways to compromise and accommodate everyone's needs during this crisis will mean a lot to your clients. – Chris Jespersen 
Venue Question 7: How are you handling Fall/Winter 2020 couples who are asking those "what if" questions or are pushing to cancel or reschedule?
WeddingPro Answer 7: Because we could handle it financially, we are giving them the choice to decide to postpone to 2021. If they book a Friday or Sunday, it's no charge to move the date. If they book a Saturday, it's 50% of the rental fee for that weekend. But don't do this just because we are. Look at your own numbers and contracts, and then make a decision that works for you. – Kinsey Roberts
Venue Question 8: Do you think we should email our couples first or wait until they contact us?
WeddingPro Answer 8: Be proactive and reach out to them first. By the time the couples reach out to you, they already have an idea of what they want to do, and you weren't part of that discussion. If you want to help guide their choices and new dates, be confident in your tone: "We got this… together!" Also, you have a much better shot of steering them to a non-prime date. – Alan Berg
Venue Question 9: What do you recommend to say to people who think we are not being sensitive to the situation?
WeddingPro Answer 9: Here are a few options for this: 
I understand how you feel, these are unprecedented times for everyone, and we're all wading our way through this situation. Businesses have inventories, and our inventory is calendar dates. With 20% to 40% of couples looking to move their weddings, just like you, the calendar isn't going to add any more dates. As an industry, we're having to squeeze hundreds of thousands of weddings into next year. We had one of our prime dates reserved for you and, due to no fault of yours or ours, that date now must be moved. That's an inconvenience for you and an economic reality for us. We rely on the income from this year's weddings to cover our costs, as well as to invest in our venue and keep improving it. Compounding this difficult situation, the government's financial assistance isn't flowing down to wedding businesses, unfortunately. Still, we have some options for you. If you want to choose a prime date next year, that's a date that we can't sell to another couple. Regardless of which date you choose, your wedding will be amazing. If you choose a prime date for this year or next, the fee to change is $X. However, if you choose one of these dates (insert options), we'd be happy to waive all change fees and increases in prices that apply to 2021 events. What would you like to do?
The wedding industry is made up of mostly smaller businesses, like ours. Weddings have been shut down and, while that's been a huge burden on all businesses, wedding businesses have been hit particularly hard. We normally would charge a change fee for moving your date and incorporate price increases for next year instead of using the prices from the year you booked (e.g., 2019 or 2020 v. 2021 prices). Another important consideration is the availability of your team of wedding pros — from photography and music to flowers and video. If you are able to move to a prime date later this year or next, you may not be able to get that same team to move with you. So, if you choose a prime date for this year or next, the fee to change is $X. However, if you choose one of these dates (insert options), we'd be happy to waive any change fees or increases in prices that apply to 2021 events. Which would you like to do?
Lastly, be sure to consider the impact of each client decision on the future of your business, including their reviews or dings to your reputation. What are the possible negative outcomes of charging them or not or giving them another prime date or not? Play the long game and think ahead. Also, check out the recap of the WeddingPro webinar with attorney Caroline Fox for more information on the legal implications. – Alan Berg
Venue Question 10: How do you sell a midweek wedding when you have all of the travel variables involved such as out-of-town guests?
WeddingPro Answer 10: Your guests will understand that these are crazy times. Given enough lead time, the guests who really want to attend will come. Travel will be an issue for some people, as will high-risk guests who may choose to not come. In the end, if you give them enough advance notice, you will have the most important people around you to celebrate. When you show your wedding photos, no one will ever ask what day of the week it was!
Don't overthink it. In normal times, only half of the weddings in the US happen on Saturday evening. That means more than 1 million weddings already happen on another day. People are having great weddings every day of the week and their guests, the ones most important to them, are putting in on their calendar and making it a priority. Yours will, too! – Alan Berg
Photo Credit: AnnaGorbenko/Shutterstock.com
About the author: Anja Winikka is the former editor of TheKnot.com and The Knot Magazines turned educator and contributing editor @WeddingPro. She's on a mission to help creatives, community leaders, and wedding businesses own their stories and tell the world about it (follow along via Instagram @editorinchiefmedia).