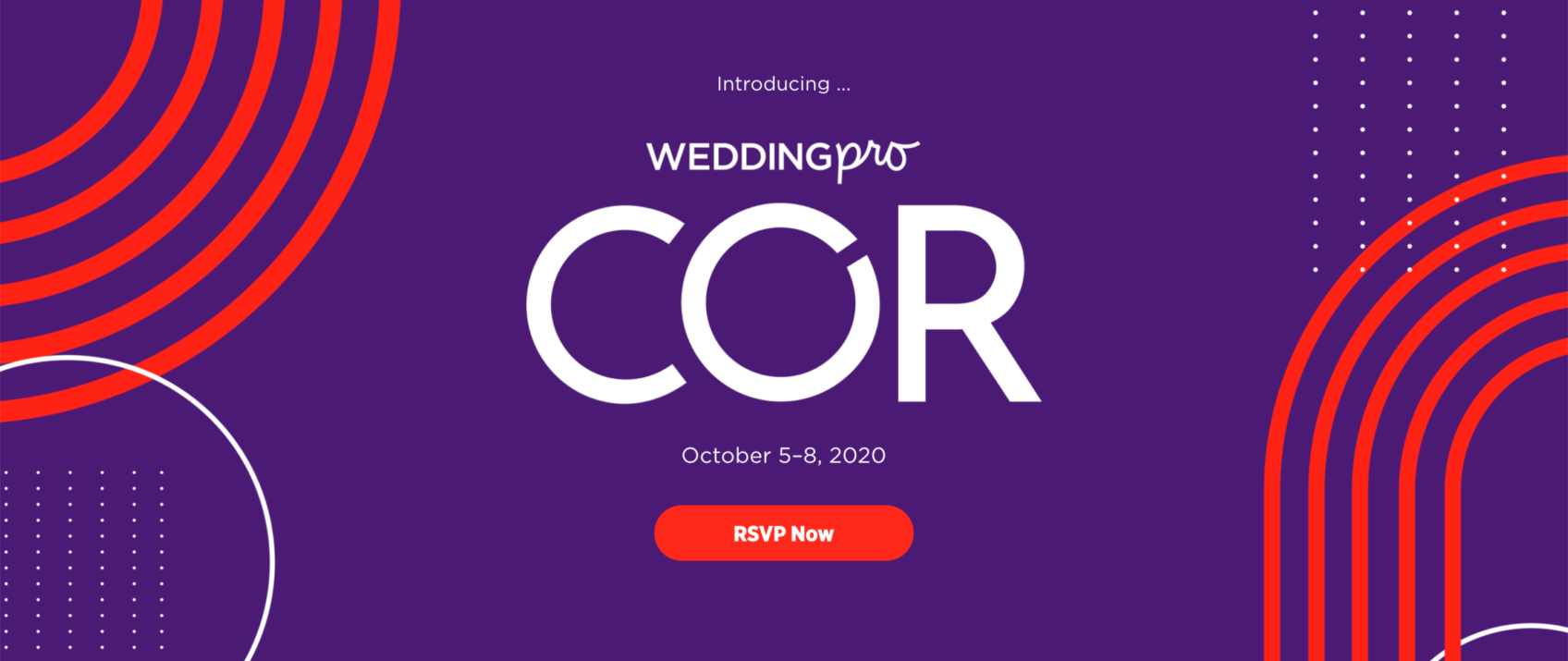 Ready for a virtual experience so immersive you'll forget you're at your computer? Tell your boss you're OOO October 5-8 because we're launching a four-day free event you won't want to miss. WeddingPro COR is geared towards helping you strengthen your wedding business and self from the inside out. We're talking educational speakers, on-demand content focused around some of today's hottest topics (legal contracts, crushing content creation and turning client objections into opportunities), networking with your peers, wellness work and epic giveaways. With your free ticket, you'll get out of your comfort zone, reconnect with the pro community and learn actionable steps to drive success to your business. 
Haven't signed up for COR yet? Register here!
Excited? So are we! Here's three ways you can make the most out of attending WeddingPro COR:
Come prepared to learn from the industry's best during our live sessions. They'll share insights about the next generation of couples as well as new, unique opportunities to connect with them through your communication, brand and marketing. Follow along and ask questions in real time during our eight live Q&A sessions. Don't forget to tune in to our panel of influencer couples and female founders shaking up the industry.
Itching for a sneak peek of what's to come? Check out some of our amazing sessions:
Want to learn more about Building a Brand of Leadership? Tune in to Kaleigh Wiese's session on Day 1 at 2 p.m. EDT.

Pumped about content? Check out Vanessa Joy's Crushing Content Creation to Gain Exposure session on Day 2 at 4:30 p.m. EDT.

Looking for

Getting Back to Business: Legal Updates for 2021

? Watch Kunbi Odubogun's session on Day 4 at 10 a.m. EDT. 
Check out the full speaker lineup here!
Pro Tip: Follow the speakers on Instagram to get to know them before their sessions. This will help you strengthen your relationships within our community. 
2. Get Ready to Hone in on Your Storefront
Looking for some help with your Storefront during COVID (or just in general)? Want to learn how to make the most of your analytics? Not sure how to maximize your investment? We got you, pro! Sign up now to reserve your slot for a 1:1 appointment with a WeddingPro Support Specialist during the event. Spots are limited so don't wait! Tune in to our live session on how to Make Your Storefront Shine (to Book More Couples!) on Day 1 at 3:30 p.m. EDT.
Pro Tip: Come ready with specific questions so you can make sure to walk away with actionable steps to strengthen your digital presence.
3. Follow Us on Social Media
Follow along on our Instagram @weddingpro for updates on speakers, exciting giveaways and so much more! We'll be sharing the latest and greatest on all things #WeddingProCOR.
Head over to our event page for more information and to grab your ticket!