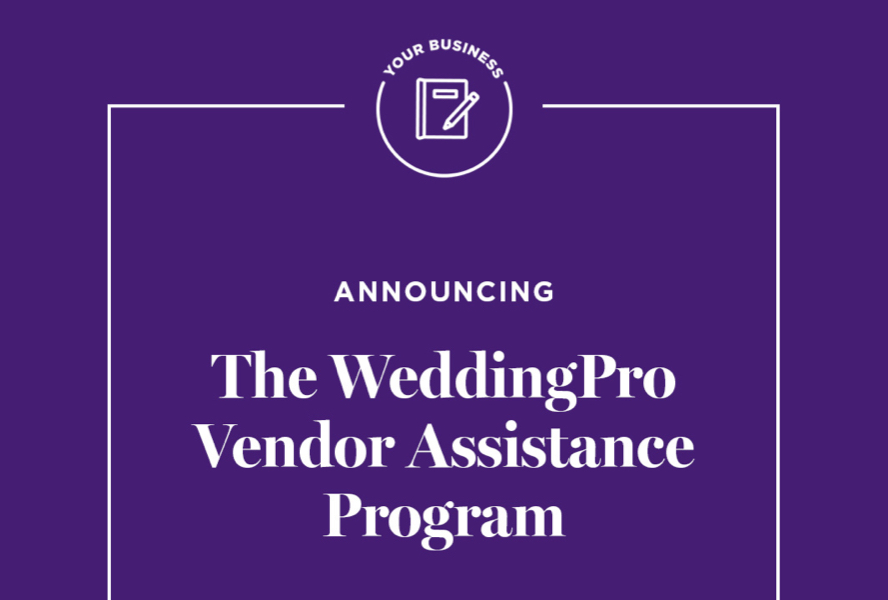 The WeddingPro Vendor Assistance Program: A Letter from the CEO
To our WeddingPro community:
I hope this note finds you safe and well. 
It goes without saying that these past few weeks have been some of the most emotional and tumultuous that any of us can remember, but they've also been some of the most inspiring as our close-knit wedding community comes together in support and solidarity. 
I have had the privilege of witnessing this first-hand. Despite facing unprecedented challenges to your business as a result of COVID-19, I know many of you are working tirelessly and selflessly to help each other–and your couples–through this crisis. Your efforts are a shining example of our shared human values and what makes our wedding pro community so special.
The rapid spread of COVID-19 has led to government restrictions imposed on public gatherings in an effort to flatten the curve. While these efforts are important for the greater good, we know that businesses like yours are now navigating uncertain waters.
Here is the good news – most couples are postponing and rescheduling, not cancelling their weddings. Over the past 3 weeks, we have executed large scale surveys in all the major countries we serve – representing millions of weddings that happen each year. We have also talked directly to thousands of our couples on our global hotlines. We have found that couples with upcoming weddings have a clear preference to postpone to a later date with only a small percentage (4%) cancelling their wedding reception. Among those that are rescheduling, roughly 65% are moving the reception to later in 2020 (with July-October most likely), while 18% are shifting to 2021 and 17% are still deciding. 
It is clear that this crisis and the social distancing that it has required, will only enhance our deep desire to be connected with our closest family and friends. Weddings will come back strong and love will be unphased in the time of Coronavirus. Just like every member of our WeddingPro community, we at The Knot Worldwide look forward to being a part of each and every one of these special celebrations in the near future.
In the meantime as your partner, we are truly committed to helping you weather the storm. Below is an outline of our 3-tiered approach based on the feedback many of you have shared. It is offered in a spirit of gratitude for the confidence you've placed in us.
1. Financial Assistance 
We have established a $10 million program to assist our local advertising partners impacted by this crisis with their advertising payments. Our pro community is the heart and soul of the wedding industry and we want to do everything we can to support you.  Local advertising partners received an email from CEO, Tim Chi, with instructions and a unique link to apply for assistance. 
2. Education 
We have launched dedicated resources that we are updating daily to help wedding pros weather the storm. You can follow along on the WeddingPro blog and on Instagram @WeddingPro. This ongoing, centralized resource includes:
 Assistance For Small Businesses

Decode the different types of assistance available to help small businesses during COVID-19, starting with government programs. For each, you'll learn who is eligible, what is available, how to take advantage, and some helpful tips. We will continue to provide and unpack information as it becomes available.
Resources to manage your business, your couples and your care

Connect with educators from all corners of the industry to bring you information on all the topics you've told us you need to understand most. From balancing postponements and new inquiries, to managing your staff and your sanity, to planning ahead for when weddings come back in full force, our team is on-hand to support you, with new webinars, articles and videos coming out every day.

Consumer and Wedding Industry Research

Stay on top of the latest industry findings as we continue to survey our millions of engaged couples on an ongoing basis to provide you with timely and relevant insights that can assist you in planning for what's next.
3. New Product and Editorial Features 
Our team has been hard at work testing new product features and services to further encourage our recently engaged couples to continue wedding planning during this time – including a new virtual concierge to help couples discover and book their weddings pros. Through our omni-channel editorial and marketing efforts, we are also encouraging couples to postpone and not cancel, to consider weekday and Sunday weddings, and to book now for Fall/Winter 2020 and early 2021 weddings. Above all, we are encouraging our users to support local wedding businesses, and as always, to trust and partner with their local wedding pros.
The above initiatives are just a beginning – we won't stop here. We are here for you and will continue to support you now and well into the future. If you have any questions, message us on Instagram @WeddingPro, and we will do our best to cover them right here on our WeddingPro Blog.
In these difficult times, we can find strength in connection and in our shared humanity. I am humbled by the creativity, kindness and resiliency of our WeddingPro community, and I am truly grateful to be part of this great industry.
Sincerely,
Tim Chi
CEO, The Knot Worldwide