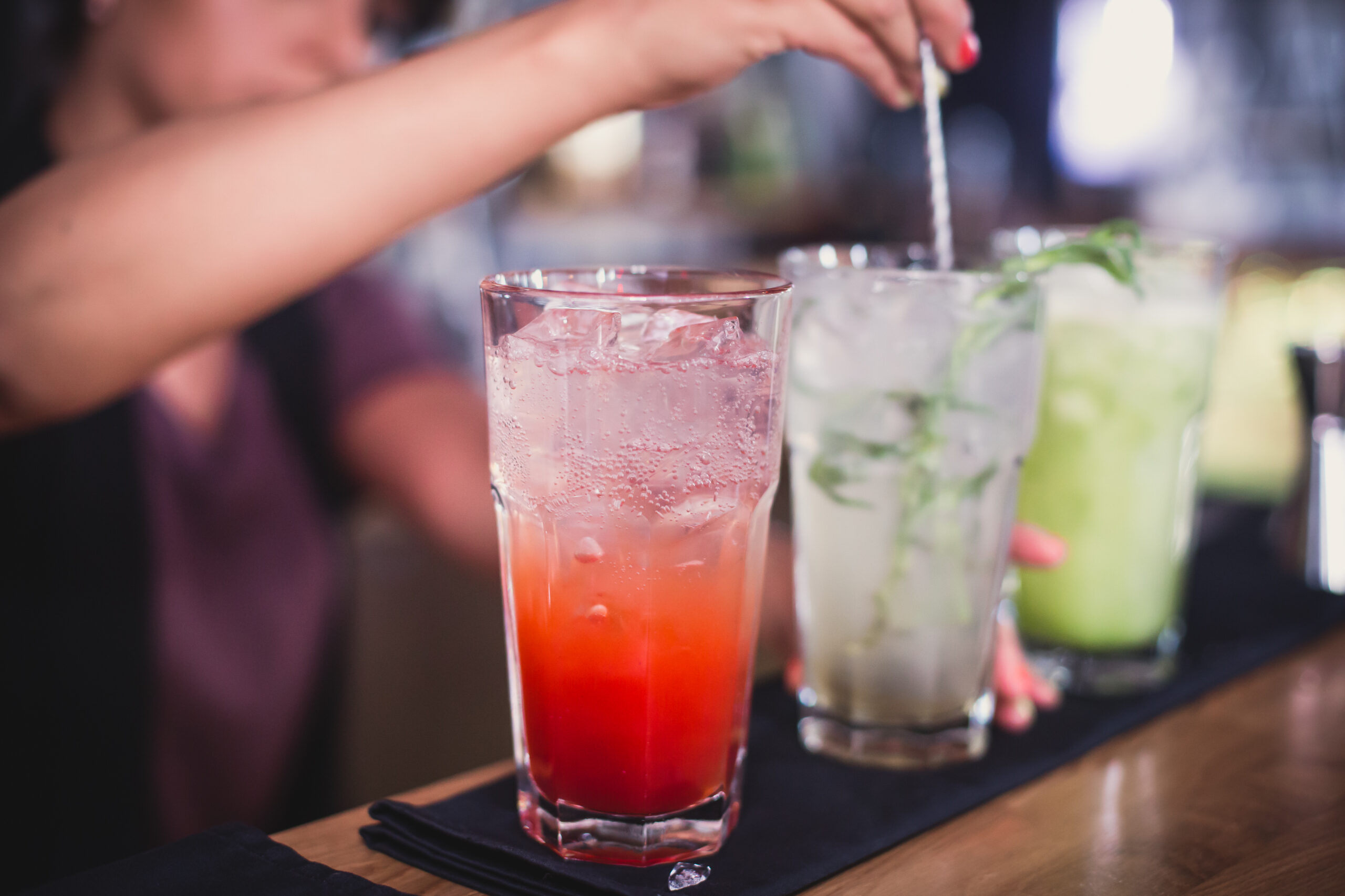 6
Cocktail Recipes
for your TGIFs
As a wedding pro, you have a lot on your plate, so we wouldn't blame you if "What I wouldn't do for a cocktail right now!" crossed your mind from time to time. So today, and in honor of National Cocktail Day, we asked some of the best catering and bar companies from across the country to share cocktail recipes with us—for you to make at home! Next time you find yourself looking for a well-deserved drink, make yourself one of these craft cocktails from our friends at The Watering Haul, Lone Star Drafts, Snake Oil Cocktail Co., Get Plated, Table Catering Co., and Marcia Selden Catering.
Cheers!
The Watering Haul
The Watering Haul is a mobile bar service based in San Diego, CA. They specialize in serving drinks at any event from their vintage trailer-turned bar. You can follow them on Instagram at @thewateringhaul.
Campsite Cold Brew
1 part Kahlua

1 part Vodka

3 parts Cold brew
Garnish with Marshmallow fluff and graham cracker
Rim half your glass with marshmallow fluff and crushed graham cracker (you can do this in a plastic bag and crush them until they are fine crumbs). Add ice to whatever container you have to shake the cocktail in and add Kahlua, vodka, and cold brew. Shake for 30 seconds and pour it into your rimmed glass.
Lone Star Drafts
Lone Star Drafts is a mobile bartending company based in Austin, Texas. They specialize in unique bar setups and amazing drinks, including draft cocktails. You can follow them on Instagram at @LoneStarDrafts. 
Blood Orange Old Fashioned
.75 oz Freshly squeezed blood orange juice

.5 oz Simple syrup

2 oz Bourbon

3-4 Dashes of orange bitters
Garnish with blood orange and Luxardo cherries
Add all ingredients to mixing glass with ice. Stir until chilled and pour over a large ice cube. Top with garnishes and enjoy! 
Snake Oil Cocktail Co.
Snake Oil Cocktail Co. is a specialty cocktail company based in San Diego, CA. They specialize in creating craft cocktails for events of all sizes and you can follow them on Instagram at @snakeoilcocktail.
Spring Fling
1.5 oz Vodka

.5 oz Elderflower cordial

2 oz Fresh tangerine juice

.5 oz Fresh lemon juice

Vanilla almond foam
Garnish with fresh mint and dried roses
Vanilla almond foam:
Your choice of milk (dairy or non-dairy) 

.25 oz Vanilla simple syrup

.25 oz Almond simple syrup
Add all the ingredients to a milk frother or blender and froth until foamy.
Get Plated
Get Plated is a full-service catering company based in the Washington D.C., Virginia, Maryland area. They specialize in creating bold and seasonal menus for their clients and you can follow them on Instagram at @getplateddc.
Tequila Honey Bee
.25 oz Mezcal, for glass rinse

2 oz  Tequila

1 oz Honey simple syrup

.75 oz Fresh lemon juice

2 Dashes Angostura bitters
Garnish with lemon peel, honeycomb, edible flowers (optional)
Rinse glass with mezcal. In a shaker, combine the tequila, syrup, lemon juice and ice and shake well. Pour the contents of the shaker into the prepared glass. Add ice, bitters and stir to incorporate. Garnish and enjoy! 
Table Catering Co.
Table Catering Co. is a custom catering company based in Seattle, WA. They specialize in locally personalizing menus using locally sourced ingredients and you can follow them on Instagram at @tablecateringco.
Cucumber, Rosemary and Pickled Blackberry Collins
1.75 oz Tequila Blanco

1.5 oz Rosemary simple syrup

2 oz Lemon juice

4 oz Soda water

4 Fresh blackberries

4 Pickled blackberries

1 Rosemary sprig

1 Lemon peel

1 Cucumber strip, long and thin

1 Cucumber slice, round
Line a Collins glass with the long cucumber strip and add two pickled blackberries and two fresh to the bottom. Combine tequila, lemon juice, and simple syrup in a shaker with ice. Shake for 10 seconds. Pour into glass and add cucumber slice. Add soda water and ice to the top. Garnish with the rosemary sprig, blackberries, blackberry and lemon skewer.
Rosemary Simple Syrup:
100 grams Sugar

100 grams Water

2 Sprigs rosemary
Heat until sugar is dissolved, add rosemary, steep 10 minutes and remove, chill.
Pickled Blackberries:
30 Fresh blackberries

100 grams sugar

500 grams apple cider vinegar

3 Whole star anise
Heat sugar, vinegar and anise. Let the mixture chill and add blackberries. They should last up to 1 month.
Marcia Selden Catering
Marcia Selden Catering is a family-owned company based out of New York, NY and serving clients in Connecticut as well. They specialize in memorable feasts and you can follow them on Instagram at @marciaseldencatering.
Winter Spiced Negroni 
2 oz Gin

2 oz Campari

2 oz Sweet vermouth

1 oz Spiced simple syrup
Combine all the ingredients in a shaker over ice, stir, and strain into a martini glass or serve on the rocks. Garnish with a lemon peel/twist.
Spiced Syrup:
1 cup sugar

1 cup water

1 tbsp of ginger spice powder

2 Cinnamon sticks

3 Star anise pods

1 tbsp Five-spice powder

10 Cloves
Cook until sugar is dissolved. Strain and chill.
Photo Credit: Tsuguliev / Shutterstock.com