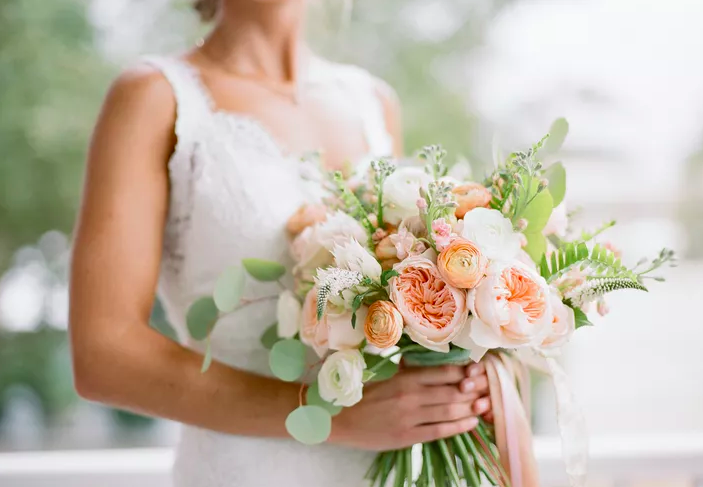 Understanding why you charge what you do and how to build trust with your potential clients are critical to closing business and increasing your margins.
That's why we turned to our industry friend and pricing expert, Sam Jacobson of Ideaction Consulting, to help break down some of the top tips to wedding industry pricing. Take a look!
1. Talk about pricing at the right time.
Today's couples crave pricing transparency. Why? Because pretty much everywhere they shop — online and through apps — couples are presented with a price tag. Of course designing and pulling off a wedding is very different than most buying a pair of shoes or ordering a pizza, but there are a few easy ways to provide pricing transparency that will lead to trust and allow you to take the conversation with potential clients to the next level.
How To Deal: Let's break it down into three simple steps.
1. At a minimum, put a "starting at" price point on your website and on your storefront on The Knot. That will not only give couples a sense of how much you charge, but it'll also cut down on the number of couples reaching out to you that may not fit in your price point.
2. The next step is to get an understanding as to what your couple wants for their wedding day. It can be incredibly difficult to know how much to charge a couple who wants something custom. So your job is to
 identify your prospective clients' needs and then to have them learn about your services before you wade in too deep on pricing. It could be that they just want to ensure everything runs smoothly on the day or that they care a lot about their table decor and less about their personal flowers. Whatever it may be that's important (and not important to them), it's up to you to uncover those needs and desires and then to customize your pricing based on those asks.
3. Once you know what's important to them, and you've had a conversation about how your services meet their priorities, then it's time to put together a custom proposal for them. 
2. Talk about pricing in a way that creates a competitive advantage.
Pricing is a hot topic in the weddings industry because there are so many variables. That's why it's incredibly important you think about and are able to articulate exactly how you charge what you do and why. On top of that, you want to be able to talk about your pricing as it relates to your competitors. your first step is to learn about your competitors. Do your homework and figure out how they price themselves and for how much (if possible). Once you have an understanding of how they price, you'll be much better position to talk about your pricing in a way that is advantageous to you.
How To Deal: The big takeaway here is to discuss how and why you charge before you speak specifically to your custom pricing. When you do it that way, you provide education and you're also helping your couples understand the value of your service. Once you send them detailed pricing, you'll then want to walk them through how your pricing is different than others and speak to how that benefits your prospective client.
3. Present three service and pricing options.
This is also sometimes referred to as the Goldilocks method of pricing. The idea here is that if you give a person three options, they are most likely to pick the middle. Why? The lowest option usually doesn't meet all of their needs and the higher option often includes more than they're interested in.
How To Deal: 
When you present the three options, give some background on why you're suggesting them for the prospective client. If you're a photographer, for instance, let them know eight hours of coverage will get them all the shots they want. Or if you're a stationer, let them know a particular printing style will give them the hand-made feel they want. Focus most of your efforts on promoting the benefits of the middle option to make the Goldilocks approach work best.
4. Work with your potential clients on the price.
Beyond the cost of your hard materials and labor, the price you propose is just a best first guess. This is especially true for those of you just starting out. So be flexible to your clients' concerns and their counteroffers. It's better to get 95% of the sale than to lost 100%.
How To Deal: 
In lieu of a discount, consider offering couples an upgrade or throwing in something special (at low cost to you). When and if you do work with them on pricing, it's important that you explain why you're giving them a discount. It shouldn't be just because they asked. There should be a reason for it. 
For example, if you're a venue, set-up and breakdown timing is an easy way to give something away that literally costs you nothing. Let them have an extra hour or two for the rental, or even a whole day if you don't have another event before or after.
About Sam Jacobson:
Sam Jacobson is the principal consultant for Ideaction Consulting. He works almost exclusively with event pros from around the country and in different fields. He uses more than a decade of hands-on wedding sales and marketing experience infused with research on sales, psychology, and pricing strategies, making him a go-to expert for WeddingPro. Learn more about his sales and marketing tactics at
IdeactionConsulting.com
.
Please note: WeddingPro and the materials and information it contains are not intended to, and do not constitute, financial or tax advice and should not be used as such. You should always consult with your financial and tax advisors about your specific circumstances. This information contained herein is not necessarily exhaustive, complete, accurate or up to date and we undertake no responsibility to update. In addition, we do not take responsibility for information contained in any external links, over which we have no control.