7 Tips to Make The Most Of Your Storefront
By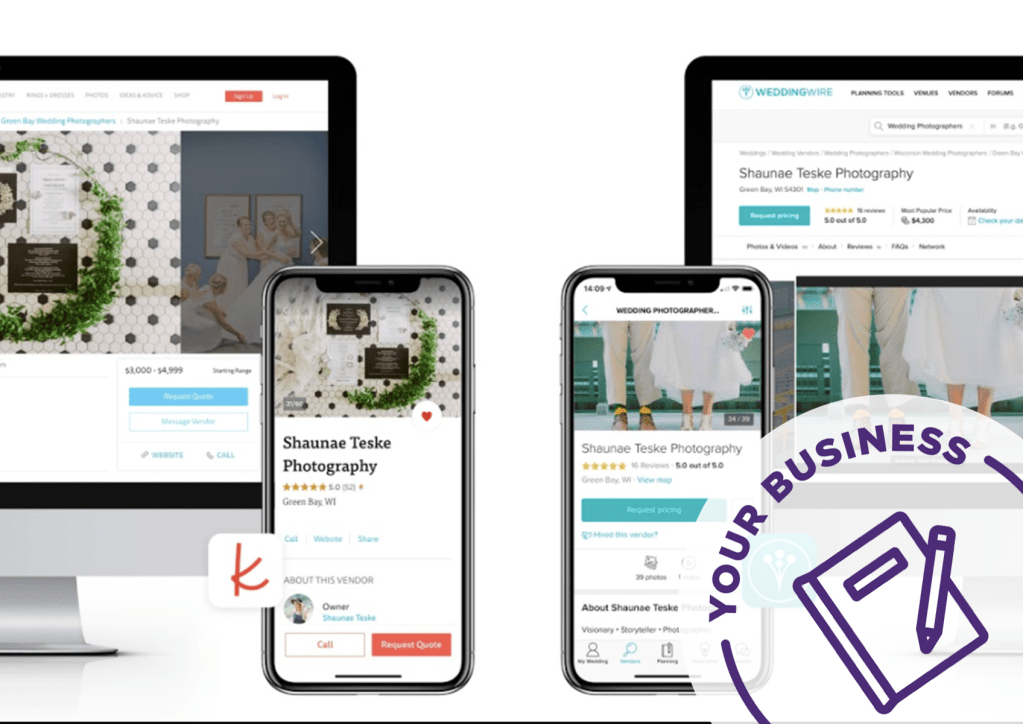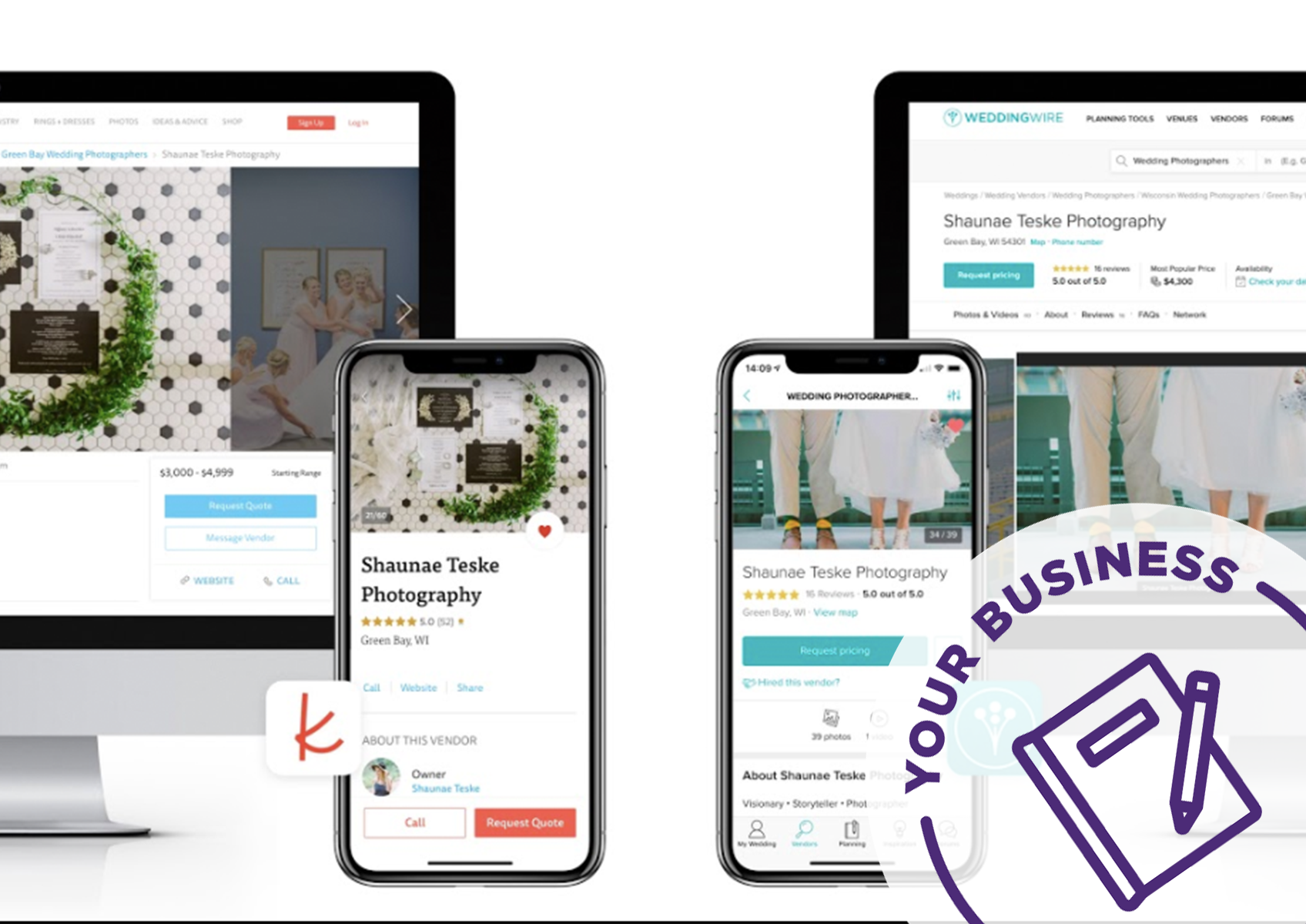 Your Storefronts are important touchpoints for eager couples looking to book their pros. It's important to update them at least once a year so your content will remain fresh and attractive so your business can make the best first impression. Make sure that your Storefront looks its bet with these seven simple checks!
1. Highlight the best images from your recent weddings
The images you display on your Storefronts help your potential clients learn a lot about your style, your past clients, and what it might be like working with you. So, when it comes to making sure you're giving people what they want to see, we recommend uploading 30-50 of the best horizontal images from your recent weddings (we've found this to be the "sweet spot"). Don't just upload an entire gallery from your favorite wedding, though—be sure to upload images from a few different weddings since it helps couples get a clear understanding of the different things you are capable of. 
Pro Tip: Not sure which images to use? Go through your social channels and look for photos that performed particularly well. Those are probably the photos that will also resonate with couples on your Storefronts!
We do understand these numbers might be intimidating if you're a newer business, and if that is the case, do your best to curate 15 really strong photos. You can always work your way up to 30-50 photos as you book more of the leads you get. Regardless of how many years you have been in business, here are a few best practices to follow:
Photographers should include photos that give couples examples of how you shoot portraits, details, ceremonies, and reception spaces

Venues should include photos that show how each space can be transformed with design

Florists, bakers, caterers, and bar service companies should include a mix of photos showing the details of what you create as well as photos of happy couples

Stationery designers should include flat lays of invitations suites and wedding-day details to demonstrate how your work supports the overall design

Wedding planners should upload images of happy couples, ceremony and reception spaces as well as professional images of you working (if you have them)

Wedding attire and jewelry boutiques should add images of dresses, rings, suits as well as photos of happy couples and of their studios

DJs, bands, and entertainment pros should upload photos of packed dance floors as well as professional photos of you working
2. Make it easy for couples to contact you
One of your big goals should be to make it impossibly easy for couples to reach out to you. So, if it's not on your Storefronts already, add contact information, your website, a quick bio about yourself or your team, and a professional headshot so that couples can easily reach out to you.
3. Display your pricing information
The truth is that if you want to drive highly qualified couples your way, then pricing transparency is the way to go. Why? When you display your pricing (even just a price range), you're more likely to attract couples who are comfortable with that range and ready to work with you. In fact, 78% of couples told us in a recent survey that seeing pricing before inquiring was important to them. On The Knot and WeddingWire, you can upload a PDF with your pricing information, or add price ranges for your services.
Pro Tip: Customize your offerings to ensure couples are receiving personalized proposals that work for their budget.
4. Add your social handles to your Storefronts
Social media is a great way to showcase your services to your audience, and whenever a prospective couple has found your Storefront, they'll likely flock to your profiles to see what you're all about. Make it even easier for them to find you by linking your profiles to your Storefront for a seamless experience.
Pro Tip: When you see your performance insights from The Knot and WeddingWire, one of the key metrics you'll get access to is social media and website clicks, so you'll be able to measure how many people are going to your profiles from your Storefront.
5. Answer their questions before they ask
If you want to give potential clients a small taste of what it might be like to work with you, you can take some initiative and answer their questions before they ask. Include FAQs to help couples get a better understanding of who you are right off the bat and if you provide the service they need. This is easy to do by completing the FAQs section on WeddingWire, and the Products and Services section on The Knot.
Pro Tip: Beyond your bio and the services you offer, make sure you're giving couples a really great understanding as to who you are, what you offer and why it's important to you. Couples are looking to connect with the person and the brand behind the images so don't be shy about sharing!
6. Make sure you have plenty of recent and rave reviews (and that you respond to them!)
Now is absolutely the time to ensure you have a lot of reviews on your Storefronts. If there's a past couple you haven't received a review from yet, reach out to see if they'd be willing to write you one. To nudge them along, consider also shooting them a text to check in and let them know that you just sent over a request for a review.
As you're collecting new reviews, be sure to respond to the ones you've already received (positive or negative). This not only lets your past clients know that you've seen their reviews and that you're continuing to go the extra mile for them, but it also shows future clients that you are who you say you are. Respond to each review in a personal way. Instead of just replying with a "thank you so much!", drop them a line that includes details and highlights of their day. And don't forget to mention them by name.
Pro Tip: Did you know that you can request reviews directly from your accounts on The Knot and WeddingWire or get a link to send to couples directly? Don't skip out on using this handy Storefront feature! 
7. Write an about me and bio that showcases your business
One of the many perks of advertising with The Knot and WeddingWire is that you're able to use your Storefronts as another place to highlight the incredible business you've built for potential couples. So, use these areas to talk about yourself and your business so couples searching for the right pro can easily find you. For example, you can use the Personal Bio section to outline how long you've been in business, your mission and core values and other ways your couples can get in contact with you. 
Once you've written these sections, our team will optimize them for SEO purposes and to ensure that they meet our community standards, all while still being completely authentic to your initial write-up. We work on key things like formatting, keywords and word count so your Storefronts can be found by couples searching for pros on Google and through the platforms themselves. Be sure to take a look at the content guidelines for The Knot and WeddingWire for more information.
Pro Tip: Need some help writing your personal bio? Don't worry–we've got you covered. Here are a few tips to get you started.
Let's grow your business together!
Start advertising on The Knot and WeddingWire, the top two wedding planning platforms.